PREPARE FOOD FRESH – SERVE CUSTOMERS FAST – KEEP PLACE CLEAN
With these three rules, Dick Naugle launched an empire. Nearly 50 years later, Naugles remains a beloved institution.
Get the Whole Story
Dick Naugles never finished fourth grade, but he created a fast food empire that's still the stuff of legend today. Learn the history, the heart, and the business acumen from his grandson, who learned it all firsthand from the man who called him "Sonny."
The N-Effect, short for Naugle Effect, left a lasting impression on entrepreneurs, the fast food industry, historians, and foodies alike.
For the first time, read the story of Naugles, as told direct from a Dick Naugle descendant and loving Grandson.
Take a Dip
Dick's Original Secret Family Recipe Naugles Sauces are HERE. Experience the Naugles signature mild red sauce the way hot sauce was meant to be— in a loving spoonful!
Or better yet– LADLE IT ON!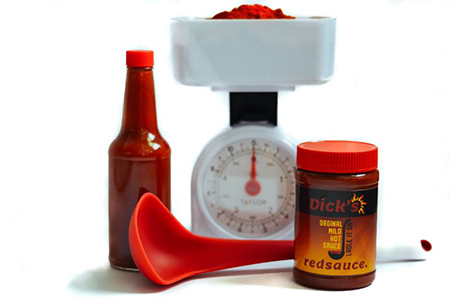 This is the same stuff Dick Naugles developed in the Army and Air Force Exchange and brought to the masses. Dick didn't stop until he got it right and developed the perfect sauce recipe of preservative-free, naturally cured with perfectly blended spices.
Today, we're honored to bring Naugles Red Sauce into your home, into your family meals. Bring a JAR home and share the memories and the love of Naugles with your family.
 Bill asked me preview the manuscript. As a favor I felt it would at least put me to sleep at night! Instead once I started to read, I could not put it down! 
 Wow man—Great Job—I never knew! 
 I received a copy of the manuscript with no idea of what to expect. The personal stories not only made me laugh, but touched me personally!
 Bill asked for my help-had no idea of what a 'Naugles' or 'Del Taco' was? I have now asked Bill for personal advice to help my business!
 As a neighbor, I was shocked to find out that Dick Naugle was his grandfather. After reading the book and being a past employee in Yucca Valley, it was nice to get the real family story—AMAZING!
 Totally Awesome—Great Advice- Loved the personal stories
 Others can learn from your life experiences
 Bill, I finally got a chance to read your work, you did a really good job bringing to life what it was like @ Naugles. I only went to the one on Roscoe Blvd. @ Woodman Ave, it was as you described. You have always been the best salesman that I've ever known. @ Accurate, I dealt with many men, with no clue or Naugle drive. I truly believe that if you could have cloned yourself, to leave behind, as you moved on to the next really big show 'God only knows the results that you would have been able to have achieved'. Good luck with the Book!
This is an eclectic book—a memoir, a self-help guide to entrepreneurialism, and a source of general inspiration. The author includes plenty of practical counsel… it's written in consistently clear prose. In the end, though, this is both a moving homage to a personal hero and a bracing reminder of the dangers of uncritical emulation. The author is refreshingly candid not only about his grandparent's personal failings, some of which led to disastrous business mistakes, but also about his own.