In January 2017, the Naugles Fan Page in Facebook shows a link to the Naugle Family Heritage.
#naugles #dicknaugle #therealnaugle #naugleburger #redsauce #hotsaucerecipe
As the book mentions "naguals", Christian Ziebarth wants to compare it to Naugles Restaurant without any family confirmation. The Facebook post claims the Naugles Family Name comes with Mexican background and influence. He claims the Naugles Heritage is referenced in a book associated with the Toltec Indians. It is as if the Naugles Restaurant Heritage magically appears out of a book. This is very random and should never apply to the original Naugles Restaurant Chain. Here is the posting-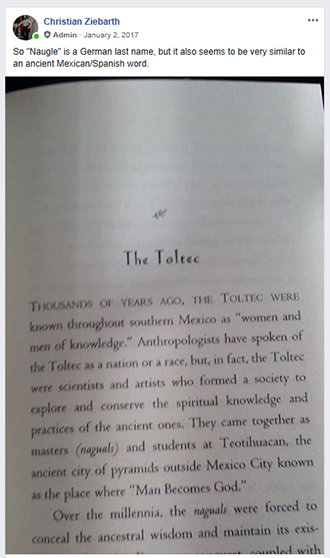 Naguals—Really! Rather than fact, it is fiction. Due to Dick Naugles struggle with the title Mexican food, this is adding insult to injury.
Since no family member responds to the post, Bill Naugle wanted to make sure history is correct. As a result, this post remains a complete falsehood.
Most of all, Naugles Family Heritage is not Mexican. Due to lack of previous information on the Internet, we apologize in advance. As the goal here is not to let anyone down, who thinks otherwise.
Finally the main goal is accuracy for history sake.
Dick Naugle Family Heritage
Dick Naugles Heritage and background is primarily from Ireland and Germany. How is this information known? Well, it is primarily from previous verbal claims.
As a side note, it seems like his personality matches up perfectly with the ancestral claims. Can you imagine German and Irish personality mixed altogether in one?
Dick Naugle grew up poor in the Midwest. Yet he migrated back and forth between the Central Plains of the United States and the West Coast. Initially the Naugle Family migrated from Europe. First stop is Pennsylvania and Ohio regions of the US, before making it out to the farm fields of Kansas.
In the end, Dick Naugle put his roots down in Riverside, California.
For some time he owned a small ranch in Creston, California. This is in Central California, nearby horse country. Another reason for this is many family members live closeby. Also it is his escape from the hustle and bustle of Southern California.
Now, Dick Naugle married Ida Mae Naugle, his first wife of over 30+ years. Ida Mae's family immigrated to the United States from Europe.
Most noteworthy, her family lived near and worked in the Welch coal mines. She talks about how hard of a life her family endured before immigrating to the United States. Thus, Ida Mae Naugle claims Welch, English and Scottish as her family heritage.
Together, they raise one son- William Richard Naugle Sr.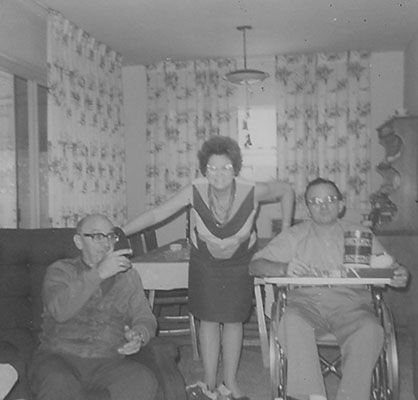 So, where is the proof of lineage—please be patient for a minute.
Bill's Naugle Family Heritage
And as life would have it, William Richard Naugle gives way for one son—Bill Naugle. There is a Sr./Jr. suffix. But this drops off, after passing away in the 1980's.
Once Bill Naugle sees the post, he only is left with one option—A DNA test! Therefore, thank you DNA test company.
Furthest thought from his mind, now Bill Naugle has to prove his ethnicity. Since Christian Ziebarth posts miss information in Naugles fan page. As shown above in Facebook on January 2, 2017.
As Bill Naugle is the only Grandson of Dick Naugle. William Richard Naugle Sr. marries Mary Louise Kreyling (Naugle).
Mary Naugle and her family are all 100% from Scandinavia. Especially relevant is most of the descendants still live in Finland.
If all this information is correct— the Naugle Family Heritage, more specifically Bill Naugles DNA results will show the following–
All of Great Britain
Most of Scandinavia
A big portion of Europe
And here are the results: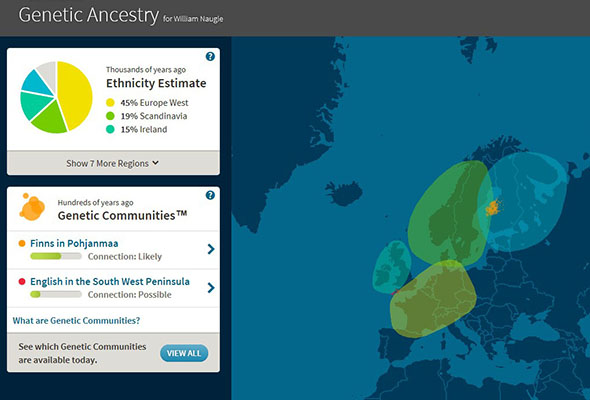 In conclusion, there are no Mexican results shown or highlighted. In now way is this post a slight on the Mexican Culture. If anything it highlights Dick Naugle's true desire to properly represent his concept.
Here and now the Naugle Family Heritage record is verifiable.
Buy the Book
The N Effect | The Power of Influence
Meet the man who put the "fast" in fast food. Despite never finishing fourth grade!
Buy the Book