THE EARLY YEARS
Entrepreneur…The Richard Naugle Story
#dicknaugle #naugles #therealnaugle
From the Start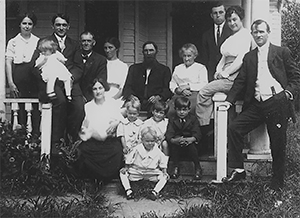 The Richard Naugle Story began on a small farm located in the heart of the Great American Plains. Dick Naugle was born November 28, 1912 in Fort Scott, Kansas. With all his moving around the country in his youth, he would always return home to help with the harvest. The N effect highlighted one of his favorite stories from back in the day and on his last harvest.
Grade School Years
At the age of seven, Richard Marion Naugle held his first job. Due to a speech impediment, "Dutch" was his nickname. During the summer months "Dutch" set up a 6′ X 6′ portable metal stand and sold Coca-Cola in the courthouse yard. Most noteworthy was the fact he sold ice cream the following summer in the city square to much fanfare.
Then he decided to rent a milk truck from his father. And Dutch quickly converted the milk truck into an ice cream truck. It was horse drawn and the horses had bells on their legs, because he wanted to draw attention to his new business. Also Dutch packed the homemade ice in rock salt to keep it from melting. He sold three flavors-chocolate, vanilla and strawberry. (Note: The Good Humor patterned their trucks after this idea.)
From an early age, he had a sense of adventure. Dutch would share his dreams of escaping home to travel around the country with his half-brother. One of Dutch's dreams was to jump on a moving train and hobo around the country. He would lay under the stars and wonder what it would be like to ride on top of a boxcar and count the stars.
But back to reality. During the winter months, Dutch sold newspapers door to door. Most of all, he was highlighting his entrepreneurial skills at an early age.
Fourth grade was the last full year of formal education received, because he became bored with the subjects being taught.
Leaving Home Early
At the age of ten, his father moves the family from Kansas to Portland, Oregon. Here he goes to school for the next two years, but never completes a full year of school. Bottom line Dutch was needed to help put food on the table for the family. He didn't care much for Portland, primarily because of the weather. Finally at the age of twelve, he set out on his own for California. As a result of this decision, his dream of being a hobo finally became a reality.
He "tramped and hoboed" out of the cold and rainy winters to Porterville, CA and moves onto Santa Rosa, CA. There he takes a job in a dairy, learning to drive a truck and delivering milk, before and after school. In those days, we assume there was no legal age for driving or so it seems.
Eventually, he quit school after starting the sixth grade for good. Dick Naugle moves from Santa Rosa to Delta, Colorado, where he works in a dairy. There he meets a produce man for whom he went to work for, which leads to his first full-fledged customer service job. How did he get to Colorado from California? Well, he acquired experience on how to 'hitch' a ride on a train. Just like photos shown in a history class in school from those days. Dick Naugle is a true hobo at heart.
Already an Adult
At the age of fourteen, Dick Naugle migrates to Denver, Colorado. Watermelon season arrives. His nickname of Dutch is wearing thin. So friends and associates oblige and change his name to "Dick" for short.
Anyway, he finds additional work with a field owner growing watermelons. Then he volunteers to start selling ice cold watermelon at 10¢ a slice. His job requires him to slice and serve the pieces. He keeps the watermelon fresh by storing it in a galvanized horse trough, and coves it all with ice. Then Dick rotates the slices in a quick and orderly fashion. He moves the freshly cut pieces up from the bottom of the trough. The ice cold pieces are positioned ornately now on top, which was to insure their freshness. These fresh slices became all the rage around town. Furthermore, Dutch learns how to combine quality of product with customer service, enticing people with value pricing.
Seems like in the early stages of life, Dick Naugle was a quick-study. The Richard Naugle Story is proof positive, the food business creeps into your life at an early age. In conclusion, being a "foodie" is something you are born or possibly bred, but for Richard Naugle it was both.
CUSTOMER SERVICE / FOOD BUSINESS
Continuing to Pursue Food
Tired of the long cold winters, he was back on the hobo train. Occasionally, he used to have to hunker down in the Salvation Army shelters and receive 'one hot and a cot' from time to time. But for the most part, he never liked accepting help from others. Dick Naugle, in his later years, always shared his appreciation for the Salvation Army.
California Dreaming
Wanting to escape the cold and damp winters, he moved back out West. Dick Naugle's next job was in a coffee shop south of LA, where he worked for about a year. Being his restless self, Dick moved on to a different coffee and sandwich shop operation in Los Angeles, California. Here he started out bussing dishes. This is where the Richard Naugle Story begins to speed up his growth in managing others.
It was a fast pace coffee shop (the pay was $18 a week), he was only scheduled for only 8 hours from 11 to 7. At the end of his shift, he 'stuck' around learning how to make sandwiches and fancy salads. Six months later he was cutting sandwiches at the restaurant. Dick Naugle would remain at the restaurant until closing. He wanted to learn other phases of the business and did not need a salary. In less than six months, the night manager position became his with hard-earned promotion.
More than anything else, the high life caught Dick Naugle's attention. It is a funny part of the story and a coincidence. He kept switching jobs moving closer to the ocean with each move. His next job brought him to Santa Monica, California. Here, he worked at an exclusive club called the Douville Beach Club. He considered the members what he used to call the
"Muck of the Muckety Muck."
Exposure to the High Life
At Douville Beach Club, Dick Naugle rubbed elbows with celebrity, waiting on prominent individuals in the community for the first time. This was a rare opportunity to meet and hang out with high level military personnel too. This job would eventually take him on a 20 year stint with the Army and Air Force Exchange Service. But let's digress a moment.
The Richard Naugle Story takes a turn in 1935.
The Family Years of the Richard Naugle Story
Dick Naugle is now married and has a son. He moves to Riverside, CA. due to family medical issues surrounding his wife and newborn son. He starts a business at Dalbe Drug making $6 a day hosting a lunch and dinner counter for patrons. During the depression, this was a large sum of money. As Dick Naugle used to preach- "People Need to Eat!"
Now, the orange growers were going broke, unable to sell their oranges. Dick recognizes a great opportunity deciding to work longer hours. He builds a stand on the corner of 8th and Main Streets in Riverside. Dick bought oranges for $1.00/box from the growers. Then he squeezes the oranges, making fresh orange juice and sells an 8oz. glass for 5¢.
Soon after he designed a truck in the shape of an orange. To insure freshness, he would squeeze the orange juice on the truck and sell it to businesses. It kept fresh for 3 hours. If the orange juice was not consumed within an hour, he would pick it up. Freshness was a key to early success. He had designs and financing for 100 more trucks, but World War II had started and he could not get the trucks built.
In his spare time, Dick Naugle devises a plan to build a frozen orange juice plant. With the encouragement of all the orange growers, he loses sleep and works until the wee hours of the morning. He prepares a plan for the bankers of the day. When he completes the proposal, Richard Naugle discovers a sad state of affairs. All they really want from him is to be an employee or more dastardly was to abscond with his ideas. He tears up the plans up. But this is a story for another day.
ARMY AND AIR FORCE EXCHANGE SERVICE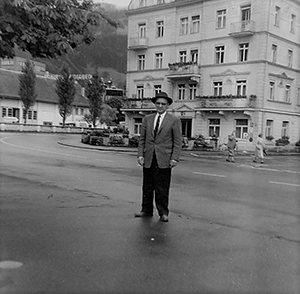 During the war he was general manager of retail and food facilities. He started on the ground floor working long hours to learn the requirements of the new position. The Richard Naugle Story highlight was his final promotion. The Army and Air Force Exchange service bestowed him with major position. Now,he is responsible for all the Food Service Facilities in the 11 Western States. The AAEFS bestowed him with the Honorary Title of "Food Specialist" before his retirement.
In 1958, he is dispatched to Europe in charge of Food Service Facilities. While there, he focuses on special projects and problem resolutions. Also he assists in a nationwide program as the AAEFS begins using food and beverage vending machines. The job requires traveling 90 to 95% of the time, which puts a lot of stress on the family life. Even though he loves his job and position, the desire to have his own gig takes priority.
RIVERSIDE, CALIFORNIA
Returning Home
The Richard Naugle Story continues along after his retirement from the AAEFS. Most noteworthy was the fact he settles down back in his adopted hometown of Riverside, California. The rolling hills and orange groves were like a magnet. Most of all he was close to the city, but it has the country feel. And more importantly, Dick stables his horse close by. The infamous mare is called, "Diamond."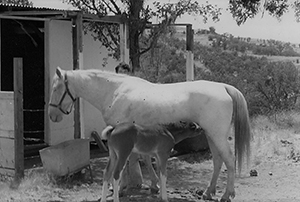 For a short time, he piddled around designing and selling restaurant layouts. As a result, he sold restaurant equipment for about two years for various manufacturers and suppliers. Dick Naugle's services were in great demand, because he was able to observe, evaluate and resolve problems. This is due to his experience in serving multitudes of servicemen and women over the years at the AAEFS.
Consequently, the turning point in his life is on a makeover of a little known restaurant in Corona, California. The revolutionary conversion of a Del Panther walk-up restaurant creates quite a stir. He builds the first 'FAST' Drive thru restaurant operation in Southern California. It was not just the fact you could drive thru and pick up the food. It was the fact that he is initially moving 2 and 3 cars a minute during rush hour periods- 7 days a week.
FAST FOOD
During this time of his life of designing restaurants, Dick Naugle travels extensively. He visits all the different fast food operations of the day. This includes the McDonald Brothers in San Bernardino. The brothers enlist his help working on solutions with the shake mixing processes.
Finally, in 1964, he opens and signs on the lease for the first Del Taco Drive Thru in Corona California. In 1967, he develops and designs the warehouse for Red-E-Foods, Inc. This is going to be the sole-supplier and warehouse for all the food and supplies needed for the Del Taco stores. Del Taco expansion was on such a rapid pace, he wants to put in place what he had learned in the AAEFS. The first ten units were extremely profitable.
Due to a difference in management philosophies and style, Dick Naugle left Del Taco in 1970. He took monies received and opened the first Naugles – in Riverside.
#hotsaucerecipe
In conclusion, many people have written The Richard Naugle Story over the years. This is a consolidation of these attempts. The N Effect written and released in 2018 highlights the memoir of Richard "Dick" Naugle. The real–The Richard Naugle Story.
Dick Naugle died in his adopted hometown in Riverside, California May 26, 1998