Naugles Fast Food History
Based on Wikipedia, the Naugles built by Dick Naugle never exists. Well for the most part a lot of the Naugles Fast Food history is missing. And Dick Naugle is totally AWOL. Yet there is a video of the first Naugles on the home page. How can this be?
#naugles #dicknaugle #therealnaugle #fastfood #drivethru #naugleburger #machoburrito
Well, the current information has so many holes and errors, it is ridiculous. And if we are to appear on the Gong Show, Chuck Barris is throwing the darn Gong at us. As he turns his back and walks off the stage! So, what did we do to not make the cut? Well, it is the Gong Show?
"Dang" shouts Naugle. By the way, there is no way Dick Naugle says, "Dang!" This is one of Dick Naugle's favorite shows. Dick Naugle gets the boot! Yes sir, "what the heck!" So, where is the real Naugles Fast Food History?
All Dick Naugle states, "Well, it's not my favorite TV show!" The N Effect tells you his favorite TV series. Probably this is what it feels like to try and to get a story correct on Wikipedia?
Read a personal story for FREE!
Well enough deflection, Dick Naugle is impatient. "Sonny, get to the point!"
Wikipedia
Well Gramps, "let's get it right!"
As a novice to Wikipedia, we truly want to make all the corrections and updates.
"Gramps, Wikipedia slaps our hands without mercy—not so hard please!" Oh, that's right we are talking to a darn computer screen. So here is a small sample of the information provided to Wikipedia-
As an example, Naugles restaurants was a public company for quite some time, trading on the NYSE. Therefore, we assume most people have no memory of this fact or ever knew? But Naugles went public in October of 1982. The initial stock price is $9.50 a share and over a million shares are issued.
And here is a copy of the certificate-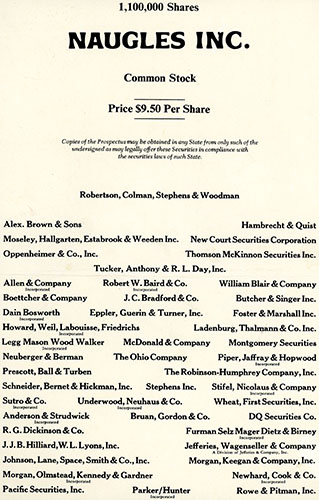 Ouch, Wikipedia deletes! Hard proof is provided.
Now, if any of the investors are still alive, we want to hear from you! So many investors lost their shorts or as Dick Naugle says, 'tighty whiteys (underwear for the millennials out there)." Needless to say in the following years, the stock is delisted in 1986. In the end, Naugles is privately held corporation again. Dick Naugle is kicked to the curb, just like on the Gong Show.
Therefore, if the goal is providing accurate information to the world, then the public offering needs to be noted in Wikipedia. But this can only be done if a respected source takes the initiative to post the correct information and help set the record straight. Once the information is written in a respected public forum, newspaper article or reported on TV, we can work to bring back this lost history.
Now, we can agree there is a lot of catching up to do. Furthermore, this is just one example.
Dick Naugle on Wikipedia
So guess what now? Well, there is no way to post a profile for Dick Naugle, because he never existed. Seems like this is a joke or what? As a result, can you imagine how many entrepreneurs participating in the gold rush of the 1900's in not only the fast food business, but the foodservice industry as a whole are lost and forgotten?
Consequently we post the attached .pdf document onto Wikipedia. As you might assume, it did not "Cut the Mustard." Well, Dick Naugle is not tired of being himself. So you suffer with his quips.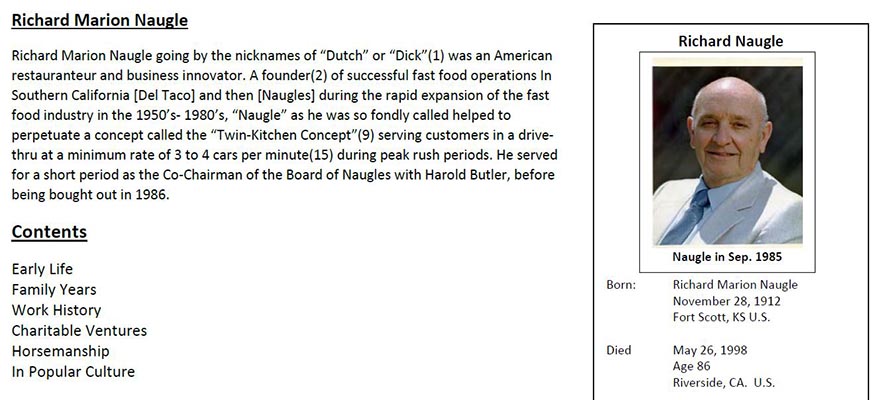 Now, let's work together to correct history. If we go slowly, we can just start with the Press Enterprise article of May 29, 1998.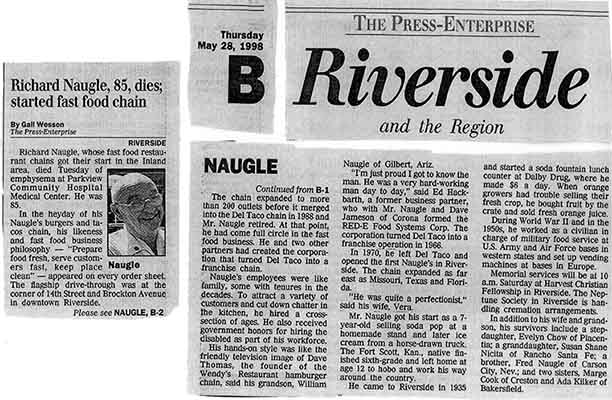 While Dick Naugle dreams of notoriety, promises are never kept. When Bill Naugle views the movie the Founder, all he can think of is the verbal commitments broken. But the difference is Dick Naugle is on the McDonald Brothers end. Much as the acting of Michael Keaton was excellent, it is heart breaking and more appropriately gut wrenching!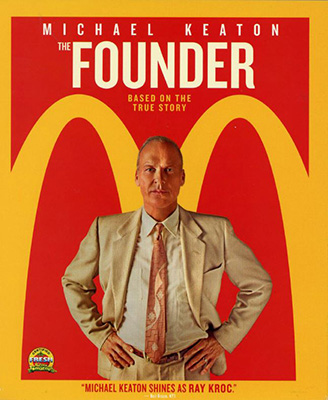 Above is a great representation of Ray Kroc portrayed by Michael Keaton in the movie- Founder! Especially relevant in losing the Naugle concept, promises of being the next Ray Kroc (McDonalds), Karl Karcher (Carls Jr.) or Dave Thomas (Wendys) never materialize.
Therefore the moral of the story— Or should I say two,
Never think you take it with you.
Don't trust others to take you there.
So, if you do not know these people—google them.
Bill Naugle prefers the In-n-Out story. Humility builds an empire raining cash and an extremely loyal customer base There are basically no changes to the initial concept. When Dick Naugle sits with Mr. Snyder in the 1950's, he should have listened.
Time to Right the Ship
Finally the primary focus for the News and Press Section of naugles.com is to get enough press, so we can provide proof to Right the Ship! Therefore stories can be written, told and shared to bring back history. And the end result to build a base of references, so the Real Naugles Fast Food History is not lost. Let's get the correct information about Naugles Fast Food History in the record books. Even people willing to pass on the Del Taco memories of days gone by are more than welcome to contribute.
Bill Naugle is not relying on Christian Ziebarth (blogger) or Del Taco Corportation to respect Richard Marion (Dick) Naugles place in history. To this day, these people desire to profit from the man without even knowing him or the Naugles Fast Food History.
Bill Naugle carries the proof should anyone want to debate the Naugles Fast Food History. Bill Naugle stands ready and waiting—if any adversary even reads this far in the blog.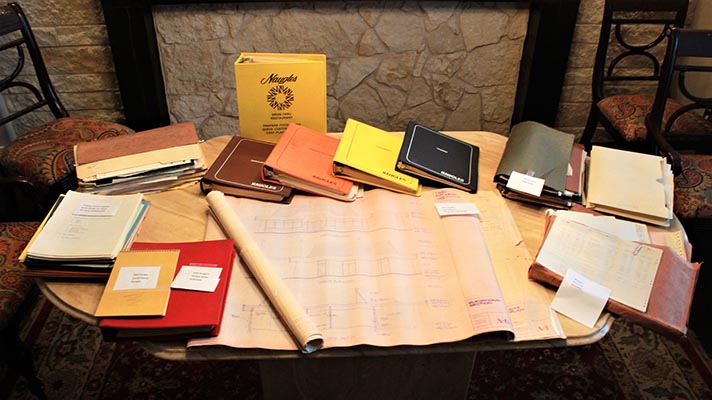 Dick Naugle was a pioneer. Bill Naugle does not want to right the ship for himself personally. Rather it is to provide an accurate history for the great grandkids and family members to pass on accurately. Even with the ups and downs, the Naugles Fast Food History is a story needing to be told and shared.
Help Us Update the Naugles Fast Food History
The Naugle Family is truly thankful for anyone, who assists or contributes to correcting and update the Naugles Fast Food History accurately.
God Bless