Dicks Story "The N Effect" is a book written to show how Dicks Story inspires my life. And hopefully he inspires many others.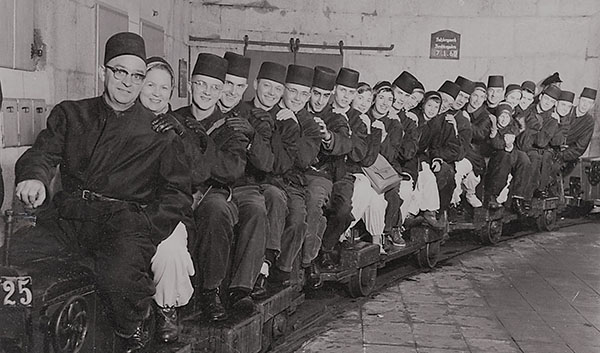 As this photo is a touch of nostalgia from his days with the AAEFS, he is a leader first. As others are happy to follow, he inspires others to be their best and part of a team. So this is a photo taken in Europe with a group of employees. Eventually his assignment ends and he returns to US, and more specifically Riverside soon after.
Due to his willingness to lead by example, employees love him. If you did not notice, Dick Naugle is the front on the photo above.
Because of his work ethic, he elevates everybody's performance level. Employees emulate Dick Naugle and there is an ultimate desire to achieve and grow.
At times, senior management and business associates do not like his approach. But it is quite the opposite for line employees. Management staff and other business professionals consider Dick Naugle simple minded. Always Dick Naugle strives to break down any circumstance, problem, or situation, so anyone simply understands the resolution. Therefore, the way he approaches problems, it is understandable and easy to resolve. Simple is best.
Most of all, Dick Naugle likes to discuss habits and Common Sense with anyone who will listen! There are just a few points and examples of this in The N Effect.
Dicks Story and the Power of Influence
Who influences your life the most? Dicks Story!
This is a question asked in The N Effect. For most people the initial response is usually Mom, Dad or Guardian. But once individuals ponder the question, the answer is somewhat different. The premise of the book is most people never take the time to seriously consider this point.
In the case of Bill Naugle, it is his grandfather Dick Naugle!
Personally, have you put any thought into this question?
Charity
Normally a specific dollar amount determines how charitable a person is or the time set aside for one specific cause. But this is not the case for Dick Naugle.
Dick Naugle never amasses the wealth other entrepreneur's receive. But on the other hand, he is an extremely generous person.
The N effect highlights a lot of the history lost. Especially as it concerns Dick Naugle's contributions to society.
Disappointment and Redemption
Finally, the emblem for the N Effect book is a representation of Dick Naugle's life. As he is a man with a desire to soar. Yet with a big heart, his temperament clouds his judgment. As a result, he lives a life full of disappointment. But in the end, even with all the heartache, dysfunction, and pain in life—there is a story of redemption.

Just for the fun of it—initially two logos are being considered. Which one do you like?
As in so many stories, it finishes with the line "Rest in Peace." But in Dick Naugle's case, he is definitely resting in peace. The author is looking forward to sharing many of Dicks Story or stories of the past with him in the future.