Just a few of my favorite sayings from Dick Naugle :
Be On Point
Remember Who's Boss
No Scurvy Allowed
#remembernaugles #dicknaugle #naugle #hotsaucerecipe
Be On Point-
Purpose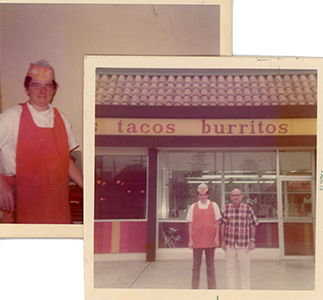 "So Sonny, what's the purpose of all this?" A common question consistently encountered on a regular basis by "THE MAN" -Dick Naugle.
Seriously, though, this blog is first and foremost a tribute to any former employee of Naugles (or Del Taco) who would like to share their story. It does not matter if you are in Utah, Missouri, or Good Ol' CA. If you were part of the Naugle Family, we want to hear from you, even if it is extended family in one way or another.
Secondly, this site is dedicated to folks of any age wanting to share a fast food restaurant experience—good or bad—especially those who want to vent or laud a company's performance in today's modern world. I worked in chain operations such as A&W, Jack-in-the-Box (Foodmaker, Inc.), Herschels Deli, Wendy's, Disneyland, and of course, Naugles and Del Taco in various capacities during my youth. Drawing comparisons among the old days, current times, and the future is definitely welcome. We want to hear from any foodies out there with a story to share.
Last but not least, this website is dedicated to the life, times, and memory of one of the true pioneers of the Fast Food Age–Dick Naugle, whose accomplishments were lost and even forgotten until now, when they are finally being made current and even more relevant in today's fast-paced world, although I am sure plenty of old-timers like myself long for the way things were.
Advocates | Community
The main goal of the site is to acquire advocates in this community who long to improve the lack of quality and service in establishments today. Maybe some responsible managers, owners, owner-operators, and/or franchisees will eventually have a place to go and compare how they are doing versus the competition. Maybe reasonable comments will help to solve problems that have existed for decades and that still linger today.
All comments, topics, and discussions must be relevant, or at least what the boss deems relevant. Useless or short comments more than likely will be deleted.
Remember Who's Boss- Naugle Is
I am: Bill Naugle! The buck stops here, where for once in my life I have the final word.
A. Posting and Content
Any content posted must be pertinent to the community.
Any content posted that is not made or written by you requires an acknowledgement of the source. This is a big part of Integrity, which Dick Naugle would have appreciated.
B. Written Content
I am not an editor, so I will not correct your content. Content submitted must be entirely ready for me to approve.
There is no limit to post length. Be it 10 words or 10,000 words (hopefully you would have some photos to accompany that many words–LOL), all relevant content and thought-provoking input will definitely be uploaded. But again, the final decision belongs to Bill Naugle.
Opening a discussion on a topic already being discussed hurts a valid thread and may fall on the knife—literally.
Be personable. Us Naugles love to laugh! As I am a storyteller, I love a great story!
C. GIFs/Videos
Feel free to post photos, GIFs, short videos, and even outbound links. With that being said, any affiliate links may be removed even if the content is good, or quite possibly the entire post will flat out be deleted. Any member of the community with 10 or more approved posts may be given priority to include a link to their website with each post–it's about relationship building… and you know what they say about "fine wine"—it takes time!
More than likely, submissions that start off with a long video will not be posted. Screenshots from a channel will fall on the axe. Do it three times, and you will probably be called, "Out!"
Any Naugle family photos shared may be copied and stored in the "family vault" portion of the website. Access to this link on the site requires direct approval by the owner of the site—Bill Naugle. There are plenty of ways to make contact through www.naugles.com.
No Scurvy Allowed on the Naugle Blog-
"If you do not know what SCURVY means—look it up!" as Dick Naugle used to shout when dealing with obnoxious customers. Most of the time, customers had no clue.
Under pressure and more than I am happy to disclose, Dick Naugle used to curse like a drunken sailor. Profanity, slurs, bullying, or abusive language will not be accepted or tolerated in any fashion. But if you desire to push the limits and use words like "damn," "jackass," or "badass," depending on the context, your comments may still make the final cut.
Anything sexual in nature, illegal (such as discussing drugs or gambling), or just plain foul-mouthed respondents or posters are not welcome here.
Spam—we all hate spam—please notify moderator immediately.
If for any reason you believe you have been unfairly blocked, there are multiple ways to contact me directly.
Politics or PC—are not welcomed here. Keep in mind this is a place where we know everyone has to eat—and this is what the conversation is all about! So let's eat, or as my 9-year-old son would say, "Y'all, let's chow down."
Remember, you are in my community, so please mind your manners—God Bless!
Buy the Book
The N Effect | The Power of Influence
Meet the man who put the "fast" in fast food. Despite never finishing fourth grade!
Buy the Book