Well, first and foremost Bill Naugle is a direct descendant of the late Fast Food Legend- Dick Naugle– The Original Real Naugle! Richard Marion Naugle is one of the three founders of the Del Taco fast food restaurant chain. And finally the sole founder of Naugles 24 hr. Drive thru restaurant chain.
#dicknaugle, #drivethru, #therealnaugle, #hotsaucerecipe
Dick Naugle is the Real Naugle. So you will have to settle for second best.As I am his only grandson, this will severely limit the number of potential 'Real Naugle' opportunities.
Are You a Real Naugle?
Can you answer "YES" to any or all of the questions below?
Did you live for any extended period of time with Dick Naugle?
Did you growing up listening to all of his personal trials and tribulations?
Next, have you worked for him in any of his multiple adventures? If so, having worked hard for many years by his side might qualify you as a Real Naugle–is this you?
Lastly and most importantly, were you there for him, after the lights went out on the Naugles Restaurant Chain failure?
Furthermore, the reason for number 4 question is there were not too many employees, management staff, supposed close associates (so called 'friends'), who profited from his concept never took the time to visit. Especially after dementia took over his mind, let alone immediately after the floundering and failure of the company.
It was extremely disheartening, when so many family members and friends never showed up at his funeral. There were though, many dedicated line employees who came up to me after the funeral and shared their experiences. The only exception to this was Ed Hackbarth. He took the time to come up, introduce himself (I knew who he was) and he gave many compliments. The one main compliment sticking in my mind was "Dick Naugle was one of the hardest working men he had ever known!"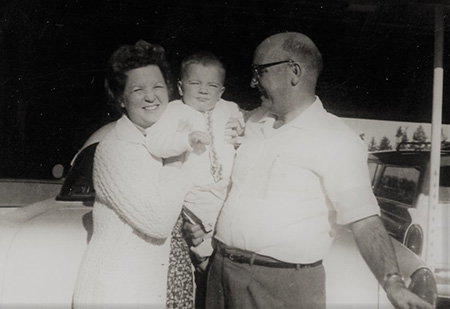 Time to Right the Ship
The purpose for writing The 'N' Effect was to seal Dick Naugle's rightful place in history. For decades no one took the time to properly document his hard work, persistence and desire to succeed. Nor did anyone take the time to document his innovations and entrepreneurial lessons. His contribution to the foodservice industry as a whole and his ultimate achievements still have not been equaled in 40+ years. Especially since the implementation of the 'FAST' drive-thru experience in his restaurants, it is hard nowadays to find a drive thru moving 3 or 4 cars per minute on a consistent basis decades later.
So you are probably asking at this point in time, Mr. Real Naugle— Why Now?
Why did you not write this story sooner? There are many reasons as you will see, as I am learning about all of this blog business now!
You will be able to find us on the variety of social media links in the future.
– PLEASE STAY TUNED!
You can also check out my Podcasts on SoundCloud